South Yorkshire will soon be home to Britain's very first tram-train. Used widely elsewhere in Europe, tram-trains have the flexibility to operate both as street running trams, and as trains on mainline railway lines.
The trailblazing scheme will see tram-trains operating between the cities of Rotherham and Sheffield from 2018, (delayed from the original date of 2015 due to the technicalities of the differing train and tram wheel profiles and dual electrification problems). The vehicles will run on Sheffield's Supertram network and on part of the adjoining national rail network, which will be adapted to allow seamless travel from one to the other. Seven tram-train vehicles are also being bought to service the line.
The pilot will run for an initial two years and the scheme become permanent after that. It is expected to create 35 new jobs.

When the scheme is complete, passengers will be able to travel from Parkgate Retail Park in Rotherham, through Rotherham Central Station and on to Meadowhall (a major shopping centre just outside Sheffield). At Meadowhall, the tram-train will transfer onto the Supertram network, allowing direct access to the heart of Sheffield city centre. There are expected to be three services an hour, all day, every day.
Network Rail have built a new link junction and points between the light rail and heavy rail lines near Meadowhall South. The rail line from Meadowhall South to Rotherham Central Station and Rotherham Parkgate is now electrified with overhead lines at 750v DC. New platforms have also been built at Meadowhall South and at Rotherham Parkgate, and Rotherham Central Station's platforms have been extended to facilitate the new service. Future station options will also be considered.

It is hoped that better connections between the two city centres, and their residential areas, will boost the local economy and encourage more people to leave their cars at home, thanks to the comfort and convenience offered by the tram-train.
Andrew Penny, area director for Network Rail, said: "This is an exciting stage of the project as we apply for permission to link the tram and rail network and turn years of meticulous planning into Britain's first operational Tram Train service."

The pilot is a partnership between SYPTE (who will lead on delivery), the Department for Transport, Network Rail, Northern Rail and Stagecoach Supertram. Final approval for the contracts between project partners was granted by the Department for Transport in June 2013.
The pilot will demonstrate the potential, both locally and nationally, of tram-train technology. If successful, it could pave the way for more schemes across the country. Indeed, Transport for Greater Manchester, Centro and Metro are all developing their own tram-train plans.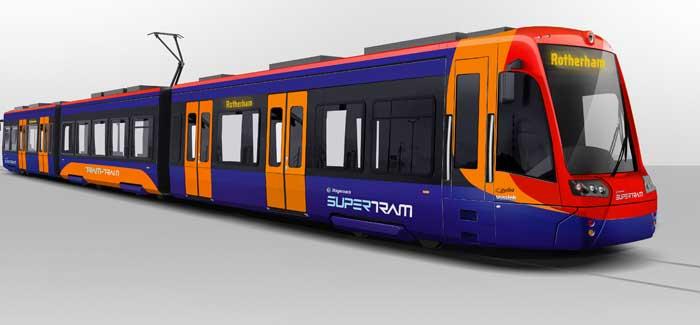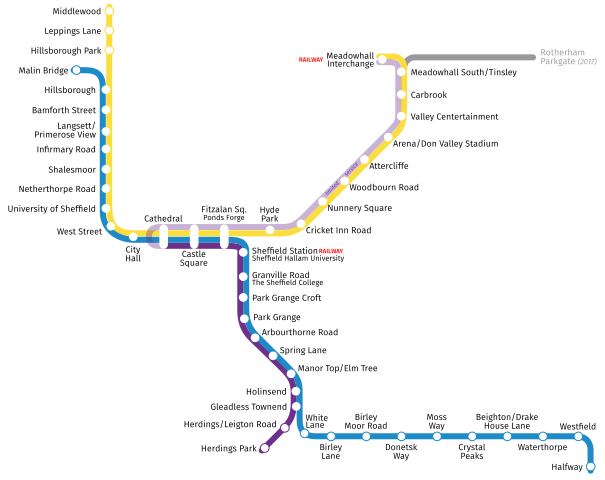 This existing Supertram network and the proposed tram-train route in the top right.